Tackling High Blood Pressure Naturally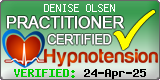 The Hypnotension™ Programme
The Hypnotension Programme has been designed specifically to meet the needs of people who have high blood pressure (hypertension). This unique programme looks at the individual need of each client and devises a treatment plan for the most effective way of tackling high blood pressure.
The Hypnotension™ programme - What is it?
The Hypnotension™ programme is a one-to-one therapy between you and a Certified Hypnotension Practitioner. Together, you will address the emotional and lifestyle factors which contribute to your high blood pressure so that you can take back control and reduce your blood pressure naturally.
Your progress is carefully monitored over the course of treatment so you get the most benefit as soon as possible, and so that you both know what is working best in your particular case.
A copy of your progress chart will also be made available to you so you can show your GP if you wish.
Factors we address in the Hypnotension programme include:-
The emotional 'X-Factors' that create hypertension, plus:
How much salt you eat
How much exercise you do
How much alcohol you drink
How overweight you are

The Hypnotension™ practitioners

All of our Hypnotension™ practitioners in the UK or around the world will have undergone a rigorous process of qualification to ensure they are competent to deliver the Hypnotension Programme. This will include but not limited to:-

Full Training in the Hypnotension protocol
An in-depth knowledge of high blood pressure (hypertension)
Sufficiently qualified to deliver the Hypnotension™ programme
Fully insured
For more information click to go the Hypnotension site